The embattled minister of Tourism, whose spokesperson infamously claimed struggling whites need to transform more to qualify for emergency COVID-19 aid, has completely misunderstood the Concourt dismissing one applicant and has prematurely claimed victory, even though the court has not yet considered the matter, never mind issue a judgement! As a result the remaining applicant, AfriForum, has accused Mmamoloko Kubayi-Ngubane, of spreading lies and fake news by announcing in a media statement that the Constitutional Court had dismissed AfriForum's application for appeal.
According to Kallie Kriel, CEO of AfriForum, they are not mentioned as an applicant in the dismissal in the Solidarity case to which Kubayi-Ngubane refers and judgement has also not been directed to AfriForum's legal team.
"On top of this lie, the Minister also falsely pretends that the ConCourt's ruling in Solidarity's case confirms that there is no merit to AfriForum and Solidarity's cases, while the ConCourt simply indicated that it will not at this stage consider Solidarity's application. No ruling was made on the merits of the case," Kriel added.
"If a Minister such as Kubayi-Ngubane is prepared to discriminate on the basis of race even in this time of crisis against people who are fighting for survival, it is probably not surprising that she is prepared to spread lies without batting an eyelid," Kriel said.
The Constitutional Court dismissed Solidarity's application to appeal directly to this court. The application followed a ruling by the North Gauteng High Court that the use of race as criterion to determine who may receive aid during the Covid-19 crisis was justified, however, the court has not yet given a ruling on AfriForum's application.
Should the court also dismiss AfriForum's application, both parties will then appeal to the Supreme Court of Appeal in Bloemfontein.
"It is completely shocking that the Constitutional Court does not on an urgent basis want to hear Solidarity's application dealing with the transgressions. This matter is about people in extreme need because of a crisis they have not caused in any way whatsoever. Now they have to wait for an insensitive court process on top of that," says Dr Dirk Hermann, Chief Executive of Solidarity.
According to Dirk, Solidarity is following a four-step approach in response to the state's racial ideology. First, they are fighting fully in court, second, they mobilize people to say no, and never accept that it is right. Third, they are encouraging the community to never depend on the state and do more and more things themselves, and help each other. Community power is incredibly strong.
Fourthly, their legal team is already reporting the South African government to the United Nations about their racial ideology in a time of crisis.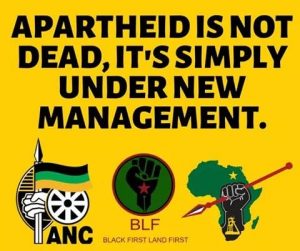 Read also: VIDEO: What Are The Criteria For Food Parcels? Do Any Poor White People, Families or Groups Get Food Aid? Do They Need to Vote ANC First?
---