The Africanization of America: It is not hard to see that the left wing riots currently blighting USA, are more to do with it being an election year and hopeless Democrat's last gasp attempt to steal power again, than it is to do with actual sympathy or outrage for George Floyd, a black porn actor, high on a cocktail of illegal drugs resisting arrest, who was accidentally killed by a white cop, with whom he had worked as a bouncer at a local club for a decade. However commies will never let a good crisis go to waste in their aim to turn USA into South Africa, where rampant crime, corruption, murder and bling rule the roost!
The left wing and far left wing establishment have been having a torrid few years ever since the democratic victory of BRexit and the surprise (not to us) election of Trump. Indeed the libtards have watched their Liberal World Order crumble in front of them, after they have spent almost a century building up their socialist driven organisations of global governance, like the WHO, UN, Paris Accord and basically every globalist body that Trump has withdrawn from. They have been trying their damnedest to leverage their ownership and control of social & mainstream media as well as big tech and Hollywood, to win back some power, so when an opportunity like Floyd George's accidental death arises, they turned out in force, from the extreme far left terrorist NGO antifa, to the socialists, elitist celebs in their ivory towers and even the cucked conservatives.
All the commie heavy hitters have been out in the past week to try capitalize on the opportunity. All the big tech and social media platforms from Snapchat to 23andMe have exposed their globalist loyalties with pathetically transparent anti Trump statements. The riots have reached such proportions they have even drawn the attention of the UN High Commissioner for Human Rights, Michelle Bachelet, who said that demonstrations that often grew into violent riots, clearly show people have been DRIVEN "to the boiling point"… 
If only these short sighted looting and rampaging Africans in America realised to what extent they were driven and manipulated, but then in South Africa we know all about the africans, leaving a protest march which demands Service Delivery to go vote ANC, again, and then return to the protests! Don't hold your breath though, africans really struggle with the idea of democracy, and seem to prefer to take make matters into their own usually violent hands. The entire African continent can attest to that. Africans are by nature subsistence and what is or is not in their hands now is more important than what could be in their hands tomorrow.
Even traitor in chief, Obama crawled out of his bunker to rally the comrades and brainwash them with sweet words about "re-imagining policing". What he describes sounded a lot like the South African Police force (SAPS), where Justice and Law & Order are simply not in their job descriptions or interests. For communists the police are an extension of the Party and are there to ensure the Party is the supreme ruler, like in Communist China, where the reputation of the Party was put above curbing the CoronaVirus, which led to the global pandemic! South Africa is already well advanced in this process with ANC's cadre deployment scheme. Has anyone ever asked how many SAPS members are ANC members?
If these elitist libtards are so desperate why do they not move to South Africa or Venezuela where all the policies they espouse are implemented to a large degree, but of course their agenda is a hidden one so they do not practice what they preach. George Floyd's sister has already earned 12 Million dollars on a GoFundMe, his brother is nearing 400,000 dollars on a separate GoFundMe and there are a slew of fundraisers linked to George Floyd's name.
What is really ironic is that according to some authorities, George Floyd protests are safe for Corona Virus, but anti lockdown protests are not! Go Figure, snowflakes living in la la land… if only they knew it was all here in South Africa, they might come down to earth!
Yet again, we see multiculturalism failing spectacularly, but like communism, it will not stop them taking someone else's money and trying it again, time after time, despite 100 Million deaths and counting!
Don V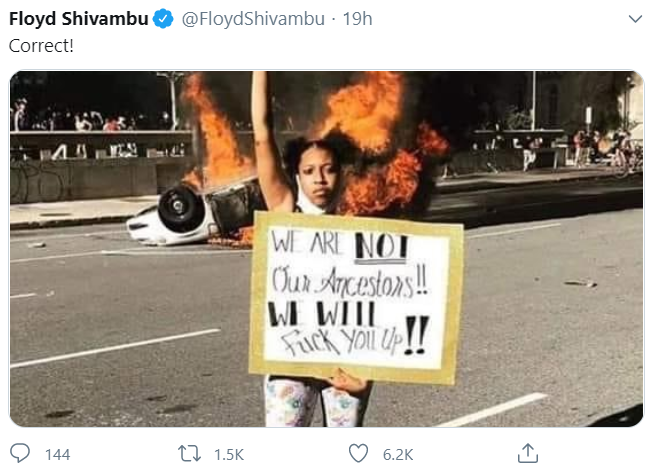 Read also: African barbarism intensifies throughout SA – Protests, riots and arson are the order of the day when Bantu can't get what they want
---