DA Spokesperson Solly Malatsi has filed an official complaint with the SA Human Rights commission, following comments made at a Black First Land First (BLF) rally in Potchefstroom on Sunday 9 December.
The group, known for harassing journalists and saying anything for attention, seem to have emulated the latter after leader Andile Mngxitama vowed to kill white citizens following Johann Rupert's interview with eNCA.
How Johann Rupert sparked a BLF backlash
When the billionaire took part in the broadcast, he made some very uncomfortable points about race and upset many black South Africans, blaming many in the demographic for wanting to waste their money in nightclubs instead of deciding to save it up.
The conversation eventually swayed to his war of words with EFF leader Julius Malema. Rupert explained he had friends in the taxi business that could protect him from the threat of Juju and the red berets. Those comments incensed the party, and it seemingly got to the BLF's rent-a-gob, too: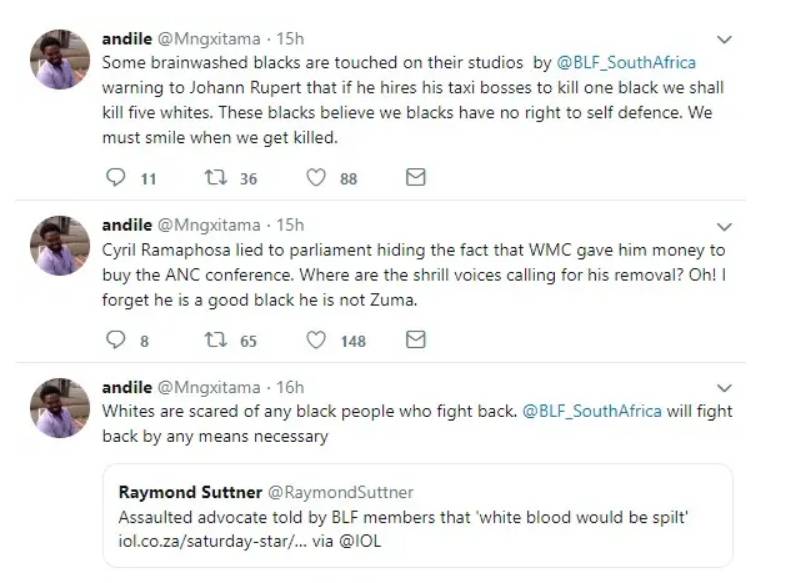 Andile Mngxitama and his foul insults
Malatsi confirmed through an official communication that the party will be standing up to the comments made on Sunday. He lambasts the "naked racism" in both the speech and the tweets, and also went on to suggest the DA would seek a prosecution against the controversial figure.
"The DA will be reporting Andile Mngxitama to the South African Human Rights Commission (SAHRC) and the Equality Court in terms of the Promotion of Equality and Prevention of Unfair Discrimination Act (PEPUDA) for comments in which he incites violence against white South Africans."
"South Africa belongs to all who live in it. There is no place for race-based incitement of violence and those who engage in hate speech should be investigated and prosecuted with the full might of the law. We cannot turn a blind eye to or diminish the seriousness of Mngxitama's naked racism, hate speech and incitement."
Solly Malatsi
Mngxitama has previously been reported to SAHRC for anti-Semitic comments, where he praised the holocaust for turning Jewish people into household items. The commission have responded by banning him and his party from running in the 2019 elections.
-thesouthafrican
---
This news release does not necessarily reflect the opinion of SA-news.
---
Free signup to our Dating Service …just click Dating Service now !!
---
Would you like to advertise on this very popular website ?? Just drop me an e-mail at [email protected], and I will tell you how !!
---