According to Ramaphosa's own infamous admission, the ANC is boiling you in the slow cooking pot so that you do not notice the decline in your rights, freedoms and living conditions. While Ramaphosa mentioned it years ago, it is based on the communist policy of "incrementalism" in which they have been slowly building up their liberal one world governance organisation (globalism) over an entire century! We analyse the 3 types of "frogs" in the South African scenario.
Cyril Ramaphosa on occasion compared white people to frogs in a slow boiling pot of water, where the temperature is slowly increased to prevent whites from realizing that they will lose everything, and to prevent them from fighting or fleeing to get out of the pot. We can divide the current generation of all minorities in South Africa into 3 categories and for the sake of argument, we will compare them with 3 types of frogs:
1. THE FROG THAT DOES NOT KNOW, HEAR, SEE OR TALK ABOUT WHAT IS HAPPENING:
These frogs are also referred to as ostriches with their head in the sand, and live comfortably, still somewhat privileged oblivious lives and obviously they totally forgot that they are minority frogs, due to the constant anti-racism propaganda on mainstream media. which causes them to think they are in the same situation as the majority blacks, which they are not, even if they vehemently claim they are – many an arrogant liberal has lost their lives due to this ignorance. They are also usually trapped in a social circle, circumstance or career that demands they comply and deny reality, or be ejected. They have totally lost their sense of identity and history of their forefathers and mothers. They are still swimming around comfortably in the pot totally unaware the temperature in the pot is building up slowly, now more than ever. A good example is progressing from NDP to RET.
2. THE FROG BREAKING OUT IN SWEAT:
These are the frogs who know they are minority frogs, they know the temperature is getting hotter but they don't know what to do or are unwillingly to forego the perceived security of the warming water, because it is familiar. So they swim around in circles, alternating between deliberate ignorance to avoid stressing themselves, and occasionally panicking.
3. THE FROG WHO GOT OUT, TRYING TO WARN THE OTHER TWO TYPES OF FROGS TO GET OUT:
These frogs are the ones who know who and what they are and they decided to get out of the cooking pot. They know the water will get so hot that it will be too hot to get out in a very short time. These are the wise ones who know that they should get out now while they still can take everything with them, even if it is at a slight loss, as opposed to having to flee with only the shirt on their backs in the future once the water boils over.
GETTING OUT OF THE POT. WHAT DOES IT MEAN?
Once again there are 3 options for this:
Option 1 – Make the fundamental mental shift.
Follow the news and other alternative sources, question mainstream media and read up about the history of your own people (not mainstream), make your own conclusion and decide to get out of the pot. Even if it is just in your head for now. How many people do you know who do not want to know what is happening? Sticking their heads into the sand like ostriches?
Option 2 – Swap your apathy for eagerness and activism.
It's important to become part of an organization or institution which fights for your interests and rights and helps you to become self sufficient. Remember in a world where the odds are stacked against the minority, organization is needed to help get your point of view across. This can only be done collectively. No people has ever saved themselves without organization. Just think how the Jews of Israel created the State of Israel. They came from all across the world to begin a country and that did not happen without organization. Ot the Polish who had to wait 100 years to get their country back, despite having the oldest constitution in Europe.
Support people and businesses believing in the same things as you do. Buy from each other instead of BBBEE businesses.
Option 3 – Move to where you are safe. Get safety in numbers.
Go and live amongst your own people and get a concentration of your own people around you. Put facts on the ground. Establish anchor towns. Know that the State will do nothing for you and that the State will seek to take away what you still have. Know that we will have to provide our own institutions and services outside the State, like education or home schooling.
Know that this can only be done collectively and with organization. The time has passed where we can either vote or shoot ourselves out of trouble but we can't lose hope. We can't lose hope for the sake of our children and our forefathers.
It is time to get new insights and make new plans. We have to realize that multiculturalism and liberalism will kill us, literally keep on killing us, and will keep on driving an economic murder program against us. The same people who propagate globalism, multiculturalism and liberalism hate us and self determination – with a passion.
It is time to get out of the pot and look for a new dam. And build that dam ourselves if we have to.
Adapted from an article by Marike Labuschagne who works for AfriForum Youth.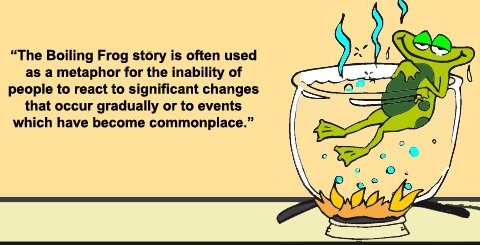 Read also: The 'first' expropriation without compensation case:- Cyril you are still letting the 'frogs' cook slowly while you share a glass of wine with them
---