South Africa is now in the 20th spot for Corona Virus infections globally and has surged past that psychological milestone of  overtaking China's infection numbers, where it all started. Thankfully, the deaths, (that we know of), are comparatively low, which has probably contributed to a certain amount of apathy from media & government. Mainstream media & ANC government were more concerned about importing far left propaganda from USA, about a drug addicted, black porn actor, who accidentally died while violently resisting arrest. Coverage of gender violence was also prioritized, given that SA is a world "leader" in most types of violence. People are also desperate to receive the Covid19 aid Ramaphosa & ANC so lavishly promised, but they should know better than to believe marxists. 
Whoever Ramaphosa's handlers are, they seem to have got just about everything wrong when it comes to response to the Covid19 pandemic. Had they paid attention, or had they listened to the scientists they would have known that the response should be proportional, and coming down so hard, so fast, for so long was the worst thing to do! UK knew this and Prime Minister Boris Johnson even discussed publicly the issue of citizens losing their enthusiasm, appetite and tolerance for combating the virus. So despite all Ramaphosa pre written speeches, to whip up the mass enthusiasm, it made no difference at all ot the figures, because the ANC was too draconian, killing a mosquito with a cricket bat, South Africa is now up the river without a paddle or anything left in reserve in its arsenal.
People are gatvol and have no interest in lockdown or social distancing. They are hungry, without much money, and still the infection rates are rising at a faster pace, and winter is here…
Many people have complained about not receiving the special Social Relief Distress Grant, which is for people who had no income during lockdown, and some applications are still pending, while many others have been rejected. SASSA says it's managed to pay out only 3.2 million people but many have expressed their dissatisfaction, saying they have been waiting for two months now. It is back to business for law enforcement with the arrest of the VBS bank fraudsters, people have also been out to protest an imported problem, because really, SA has had a black majority government for a quarter of a century, with full power, BBBEE and control of everything, so to try pretend that the problems of South Africa today are somehow white people's fault, is pure opportunism! SA-News however provided an alternative statue protest calling for the removal of Shaka's statue, which reached nearly 200,000 people on Facebook: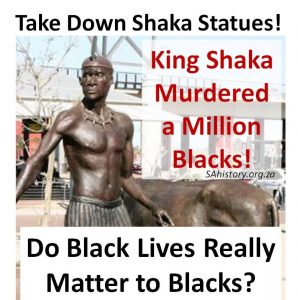 However, as we have reported a few times, it is clear the ANC have been more interested in capitalising and profiting from the Covid19 pandemic than combating it, and all their sanctimonious speeches and decrees have been targeted at manipulating people into a more totalitarian regime. In future we will all be talking about how it was before CCPvirus, how free we were and how we could do this and that without needing a permit or being watched. The minorities more so because ANC has now openly had its anti white policies condoned by the constitutional court, so expropriation of land without compensation will be fast tracked soon.
South Africa is now in uncharted territory, not only politically, but economically and healthwise too. Northern hemisphere countries were helped by the onset of summer in their battle against CCPvirus, although they lost many lives. South Africa still has winter ahead of it and it has not reached the peak of its healthcare capacity yet, and people have no appetite for lockdown or social distancing anymore, and all Ramaphosa has is speeches. The ANC regime has its work cut out for it, but with Bheki Cele happy to smash force people into line, with total disregard for accusations of police brutality, there is a showdown looming. NDZ has also been playing the long game, no doubt her canny ex husband has advised her to drag it out, so that Ramaphosa can take all the blame for the disaster that the CCPvirus response is fast becoming… then replacing him will be as easy as pie, and South Africa will find itself with a fully fledged communist government, like Venezuela or Cuba, or China, where it all started…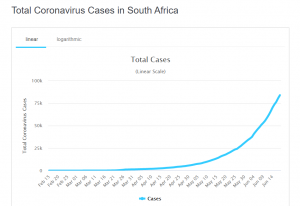 Red also: VIDEO: SA Lockdown and Tobacco Wars are About Political Power, NOT Saving Lives! Ramaphosa's NWO/WMC versus Zuma's Communist Mobsters!
---