THE GRAVE COST TO THE ECONOMY – It seems the white industrialists are aware how Corona will affect their own bottom line, and have stepped up to the plate to protect their consumer driven interests (and get a tax break), but why have the many super rich black businessmen created by BEE & corruption not done the same? Or super rich trade unions like COSATU? Does the economy not affect them? No, their profit is not based on sales and consumers, it comes from BBEEE & Government grants, tenders and corruption, so as long as the ANC is in power, their taxpayer powered gravy train steams on, and the CoronaVirus will just be another money stealing opportunity, with the begging bowl to the West, who they hate so much. 
The Chinese Corona virus is undoubtedly a grave crisis facing us and if allowed to spread into the winter, it will lead to untold suffering and millions becoming sick and thousands dying. The Rupert and Oppenheimer families have shown their commitment by giving R1 Billion Rand each to fight this virus and mitigate the impact on ordinary people. This money will be put in a central fund called the Solidarity Fund and is aimed at helping small business people get through the just announced lockdown period of 3 weeks. One now wonders where is the likes of Patrice Motsepe on this? Guptas? Or NASPERS, who have such a vested interest in the mass black market?
One also wonders what measures the ANC government and their cadres in each and every state department and state owned enterprise they control/plunder, will put in place to steal less and save on their gigantic salary packages and bonuses, so that more money can be available to fight the Chinese Corona virus? Why don't they stop bailing out SAA for instance with billions of Rands yearly and simply privatize it, to stop ANC officials plundering it? The Chinese Corona virus will be devastating to us, especially because it will cause our already underperforming economy to drastically shrink further.
The fund created by Mr Rupert and the Oppenheimer family will probably not be enough to help everyone. Many families won't be able to earn enough because they work for themselves and won't be able to carry on their businesses during the lockdown, which starts on Thursday night and will last until April 16. Economist Dawie Roodt says the economy will shrink by as much as 3 % in the first quarter and up to 20 % in the second quarter of this year. Crime levels, already through the roof, will no doubt rise. Murders will probably increase as well. The Chinese Corona virus is a cruel blow and hits a country hard, especially one that has been slowly brought to its knees over a period of 26 years, by another slow eating but very effective ANC virus, with its racial quota BEE policies and communist ideologies.
This will be difficult. Time to take precautions, stay at home, wash hands and hunker down and hope we all come out on the other side.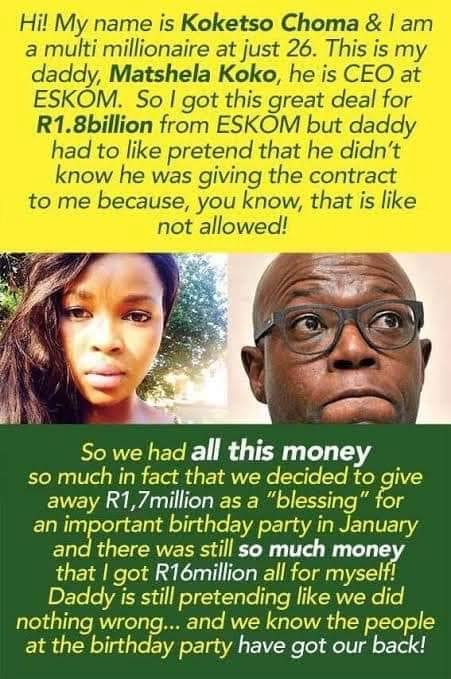 See also: Deliberate Losses: Affirmative Action & BEE, A Scam That Bankrupted an Entire Country & ALL its State Owned Enterprises! Allowed To Steal Tons of Cash Just For Being Black, Not For Adding Any Value!
---