"CoronaVirus Knows No Borders or Nationalities" Ramaphosa said. He Lied. As we predicted, the Chinese CoronaVirus crisis is just another opportunity for ANC gangsters to enforce its racial black supremacist quota ideology, and fill their own and their crony's pockets. The ANC released its racial classification guidelines for aid to small business under the CoronaVirus economic lockdown, after calling it fake news that only black small businesses will be assisted. They lied. It is definitely NOT fake news that race will play a roll, when it comes to the granting of official assistance to small business people during the lockdown period. Race WILL play a roll and this is why Solidarity announced they have laid a complaint in this regard with the Human Rights Commission. 
This step comes after the government had denied that assistance will only be given to small businesses with a 51% black ownership, although an official document of the Department for Small Business Development stipulating such a requirement was circulating on social media.
This was subsequently called fake news but it was NOT fake news, because it was an official draft document from the Department, although not made official yet. Yet now the Minister Khumbudzo Ntshaveni herself has released a whole raft of racial classification regulations which will be official policy guidelines when officials have to decide which small businesses get help and which ones don't. When ANC "officials" make race based decisions, we all know who wins and who loses… How can an unexpected national emergency be part of the NDP?
The minister for Small Business Development, made a speech on Tuesday in which she said that the demographics of the country will indeed play a roll when it comes to who will get official help and who doesn't. Demographics refers to the racial make up of the country. Solidarity has also objected against the official government aid package of R 200 Million that the Department of Tourism has promised to give to small businesses in the tourism sector. The department has issued a press statement in which it says that at least 70% of the businesses that will be helped must be black owned, 50% must be owned by women, 30% owned by youth and 4% owned by people with disabilities.
As usual and always, there will be nothing left for white people who employ a lot of black people, and criminals and gangsters (tenderpreneurs) playing the ANC's racial quota game will make a killing. Solidarity will also prepare a court action to oppose this racial classification in a time of crisis they have announced. Dirk Hermann of Solidarity trade union has said that whilst the county must prepare itself for a period of unknown suffering because of the economic lockdown, the ANC sees this unprecedented disaster as yet another opportunity to enforce its racial ideology. Mr Hermann has also pointed out that it is one thing to only consider blacks for government tenders, but a totally different thing to shut down all economic activity because of the Chinese Virus, and then refuse to help white small business people on the basis of skin colour.
However this will come back to bite the ANC, as they clearly have no clue how economies work, but what else do we expect from communists…? Oh yes, genocide of course. 100 Million and still counting it seems…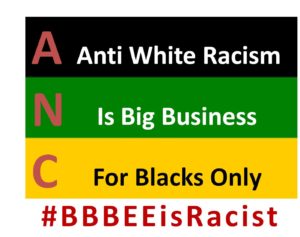 Read also: Rupert & Oppenheimer Give R1 Billion Each to Fight CoronaVirus – Why Aren't Super Rich BEE Enabled Black Businessmen Giving Too?
---