If you were hoping that finally, after yesterday's arrest of 8 officials in the VBS Bank heist, that the racist motormouths of Malema & bullyboy Shivambu were going to get their comeuppance, due to their close links to the looted 2 Billion Rand, you have not been paying attention. SA is run by a corrupt regime and corruption can only exist where there is no accountability, and where deniability is readily accepted to the extreme. Despite dates and locations on his Twitter trail mirroring his Mahuna bank card withdrawals, over a whole year, Malema STILL denies knowing anything! You can be sure, in his defense, Malema's motormouth will accelerate way beyond just calling Ramaphosa a "bastard", supposedly for not bailing him out of this mess…
When hundreds of desperate people queued in panic for days in June 2018, at the HQ of VBS Mutual Bank in Thohoyandou, Limpopo, hoping to withdraw their life's savings from the failing bank, the "people's hero" Julius Malema was still happily using his Mahuna Investments bank card to spend money looted from VBS Bank, which "lost" nearly 2 Billion! Malema spent R900,000 that month alone!
From December 2017 to December 2018, Julius Malema the Marxist, spent 4 Million rand buying capitalist brands like Gucci, Louis Vuitton, Emporio Armani, Le Coq Sportif, Durban July, etc. If that contradiction is not bad enough, the fact that it was stolen money from a slush fund should make one seriously wonder if marxism is not just a front for greedy power hungry criminals, which is why it never works, no matter how may times citizens are tricked by its false idealistic promises. Is this what the EFF & ANC mean by nationalisation of banks? Into their pockets?
The reason why it is tried time and again however, is because quite frankly, for criminals, it is the best cover there is and usually it also lets them get away with it, pretending it was a political coup, or smear campaign, or they didn't know, or they were framed, and already the EFF propaganda machine is claiming just that! Because marxism usually operates in a regime which is rotten from the very top to the very bottom, the criminals pretending to be politicians, usually are not prosecuted either, and they are allowed to push their deniability or bluster to the extreme. Then if it looks like they might just end up being found guilty, there is always the medical health card to play.
Proof of the absolute corrupt regime, was the fact that a suspect in this major criminal case, Floyd Shivambu, who is also a member of Parliament, the deputy leader of a major political party, is having private communications with the head of the Hawks, Godfrey Lebeya that is supposedly investigating him! Floyd Shivambu's brother has an engineering company which received R16 Million from VBS Bank yet they cannot show which services it provided in return for the funds.
One thing is for certain, after two decades of plunder, corruption, looting, lying and blatant state capture, you are a realist, not a cynic for assuming that no high level politician is going to jail just yet. We look forward to find out just to what extent Ramaphosa left Malema out in the cold. It appears Ramaphosa feels he no longer needs Malema as an ally for land expropriation without compensation.
What is shocking though, is this pattern of corruption and rapid distribution of large sums of cash, without accountability, has been repeated many times over in the last 26 years, resulting in the deliberate hollowing out of a once first world country, which ironically is an aim of marxism too. Indeed, Malema might still have the last laugh, as Africans have a tendency to elevate the biggest criminals, like Mugabe, their "Lion of Africa."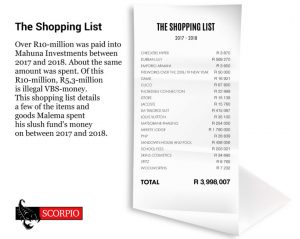 Read also: Is Malema's Racebaiting A Cover For "Pay to Play" Corruption? Malema's Sugar Daddy, A Corrupt Tenderpreneur, Bought Pretoria Mayoral House But Doesn't Pay Rates & Taxes!
---