If there is one thing ALL governments, especially Socialist regimes are good at, it is making you think you owe them something and should be grateful to them. Socialist regimes can only achieve this with complicit mainstream media and yesterday was fear mongering and fake news day over at News24, where they posted two articles that look intentional to hype up fear, before Ramaphosa's speech, to try to get people to support and be grateful for the ANC and its indefinite lockdown. This should be no surprise as NASPERS, the owners of News24 have made record profits from us being stuck at home using the internet & online entertainment, in SA and in China, where NASPERS are also financially dependent on the Chinese Communist Party's favour, with more than half of their $130 Billion dollar company valuation based in China! 
The first article is from an academic from KZN with the totally arbitrary, grabbed from the air claim that the lockdown saved 20,000 lives, a claim that Ramaphosa "conveniently" echoed later in his speech, claiming that without the lockdown, the number of infections would have soared uncontrollably and many thousands more would have died. The truth of the matter is that there might have been less Chinese CCPvirus related deaths, as there would have been without the lockdown measures, but we cant know for sure, and as SA-News reported, one group of professionals estimates there would have been LESS without the lockdown!
However any number given by anyone is a guess and it should also be noted that the total number of CCPvirus related deaths won't be less over the long term. People are now dying at a slower rate partially due to it not being fully winter yet, but the lockdown can't last forever. The spread of the virus can't be stopped completely, no matter what draconian measures are taken and the governments own estimates are that it will peak in September, so it is VERY premature to make such grandiose claims. Over a period of the next year or so the same amount of people will die. We are only postponing the inevitable as the CCP virus will be deadly to some but not all, and that is the truth of the matter – ANC cannot take credit for the majority who it only affects mildly.
The other article published on News24 was by a non scientist called Marius Strydom which claims a Corona related death rate of 100,000 people in 3 months time, which is complete and utter nonsense. Where does he get his facts from? And News24 is publishing this? Are they not the ones who are always accusing others of fake news? The ANC said in the beginning they need 3 weeks of lockdown to get hospitals ready. To that we agreed. But then the ANC shifted the goalposts and went into overdrive to create a permanent dictatorship and drive as many people into bankruptcy and unemployment as possible.
They also started to discriminate on the basis of race as can be seen in their policy to only assist non whites with government funds. To this we will not agree. We wont bend to this. The communists are also grabbing the chance to implement a central command system as can be seen in Patel's ridiculous list of clothes which may or may not be bought.
To News24 we ask : Who are the fake news now? Look in the mirror…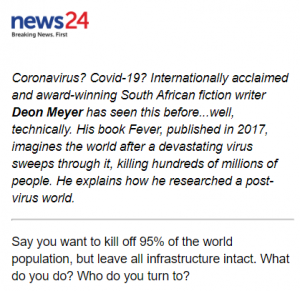 See also: "Say You Want to Kill Off 95% of The World" – News24 Spreads Fake News, Panic & Conspiracy Theories (Again) About CoronaVirus Vaccine & Bill Gates in Africa – Adriaan Basson Forced To Apologise!
---