South Africa might well find itself without a President or any top government officials, police or army leaders in 12 days time! It seems the new totalitarian powers the State of Disaster has given them, has gone to their heads! Dressed like an African dictator, Ramaphosa himself was addressing SANDF members ahead of their deployment in the lockdown, sounding world wise about the "invisible enemy", as he mixed with them at the Doornkop Army Base in Soweto, Cyril got so carried away by his new dictatorship role, he forgot all about the Social Distancing rule he was advocating! Ramaphosa and the top brass were seated right next to each other as normal and even the army troops were arranged in their normal close squad formations! Did Cyril not get the memo from Xi Jinping who did it all via video links (pictured), yet still wore a facemask (for the camera's)? After 26 years of doing as they please, do the ANC now think they are invincible against the Chinese Virus too?
It is also becoming increasingly evident that the CoronaVirus statistics which the ANC regime are issuing each day, leave a lot to be desired. With over 1,000 confirmed cases, SA still has 0 deaths? No other country has this, and the next closest with zero deaths is Qatar on only 550 confirmed cases, so God alone knows what the real situations is.
Also feeling his despotic oats and also disregarding Social Distancing rules by standing less than a metre from the sign language interpreter, dressed all in black like a mafia gangster, Minister of Police, Bheki Cele looked all the part of a mafioso in the 1920's Prohibition in USA, when Alcohol was banned. Cele caught South Aftricans on the hop(s) when he suddenly announced that no alcohol would be sold for the next 21 days, causing everyone to head to liquor stores on Thursday, creating long queues as drinkers stocked up on booze and other non-essential items ahead of the national lockdown, essentially forcing everyone to go out and spread or catch the virus as fast as they can all in one go! Watch the infection stats skyrocket next week!
Struggling to read from his notes, Police Minister Bheki Cele warned any person who contravenes the regulations of the nationwide lockdown will be guilty of a criminal offence, and will be liable to a fine or imprisonment for a period not exceeding six months, or both.
He made it clear the idea behind prohibition was not to stop people going shopping, but to stop people fighting, stabbing, having road accidents and hurting each other, causing them to go to hospital and taking up precious hospital space and resources. He underscored this by announcing that they had arrested two people in KZN who were not in their home, and charged them with attempted murder! Stasi here we come. God Help us with these despots and their new powers!
The Justice, Crime Prevention and Security Cluster, whatever that is, briefed the media in Pretoria on COVID-19 measures with the Minister of Cooperative Governance and Traditional Affairs Nkosazana Dlamini-Zuma, urging South African citizens to observe COVID-19 regulations and stay at home. No doubt she felt just as invincible after decades in power, ignoring her own rules and standing mere centimetres away from the interpreter too.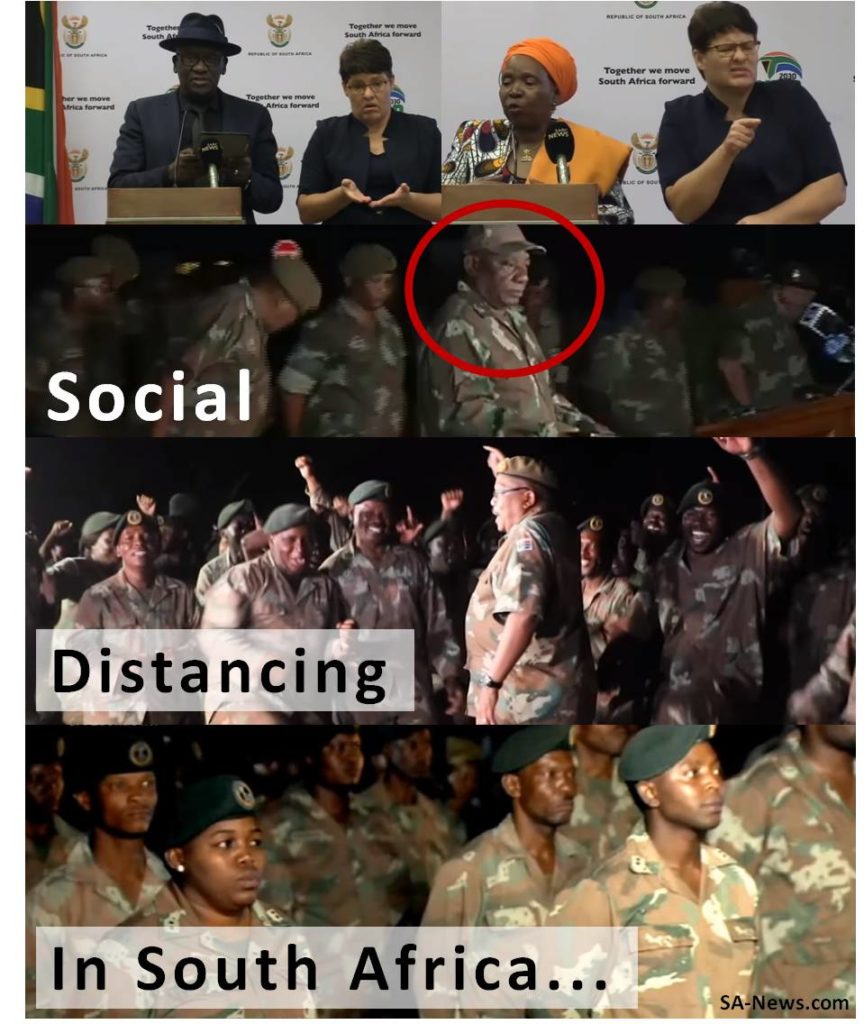 Even the rank and file police members and SABC staff seemed all fired up counting down the imminent lockdown, like it was New Years eve, chomping at the bit at the prospect of testing out their new totalitarian powers, stopping the citizenry from doing anything normal, because of the "common enemy" which communists always use to implement autocratic powers. It is clear the elites think all their Christmases have arrived at once, but will they be in for a shock in a few days time when the virus strikes for real? South Africa will never be the same again.

During the briefing on Wednesday, Cele said the Disaster Act says that the movement of alcohol or liquor can be restricted. There shall be no movement of liquor from point A to point B. Which means what you have at your home, you consume there, not next door. "There shall be no movement, and to show that we are serious, it tells us that if you break these laws of these regulations there are six months or fine or both." It sounds like they themselves only discovered that clause on the same day!
He also mentioned that there might be a negative response to people when they are put in their houses, which increases the question of abuse, so they have increased units that deal with matters of children abuse and these people can phone the number eight zero zero one five zero one five zero when they are abused.
He ominously ended by saying that the police with the support of the SANDF are ready to make sure that complete non-movement will be implemented accordingly for 21 days…
See also: How Will ANC Regime Cope With COVID-19 When SA Hospitals Have No Beds & Cannot Even Cope With A Broken Ankle?
---