Do not get tricked or sucker punched into just paying a COVID-19 "Admission of Guilt" lockdown fine, as it could leave you with a criminal record for something which is unnecessary and unconstitutional! These admission of guilt fines will leave you with a criminal record if paid which will give you big problems in future, like when you apply for a visa, firearm licence or apply for a job even. This is the advice of a criminal law expert of Kempton Park, Mr Riaan Louw.
Louw says there are other options for an accused. An accused or a legal representative of an accused can also write to the State prosecutor to state that you did not have the intent to transgress the regulation. Mr Louw says intent will always have to be proven by the State. A trial is something the State will not prefer because then everything will have to be in order from the State's side, including sworn affidavits from their witnesses and the witnesses will have to pitch up to testify. Louw says of the 20 cases of people arrested for lockdown violations in Kempton Park, 19 cases were withdrawn by the State.
Mr Louw also says the State will face a massive bill for civil claims after the lockdown because of the totally frivolous nature of many arrests which are also totally illegal, like the arrest of Liam Bulgen and Tereza Cervinkova in Muizenberg, when their toddler ran onto the beach. Mr Louw says it does not even state in the regulations that you are not allowed on the beach. Police arrested the couple and their toddler baby daughter on Monday 4 May, 2020 during the government's allowed exercise period in Muizenberg. The incident happened at 08:45 when Liam Bulgen and his fiancee, Tereza Cervinkova were arrested together with their baby girl when they went walking on the pavement next to the beach, something which is allowed.
Their big crime for which they were arrested for, came when the little girl ran onto the beach as any child would. Liam immediately followed to go and fetch the girl and it was then that he was swooped upon by the Police and put in the back of a Police van! His partner and baby daughter were also arrested and also taken to the Police station. There they were kept for hours despite the fact that the baby girl is small and needs to be fed. Her mother had to breastfeed her at the station in the end. Liam says his own mother wanted to bring food and a clean nappy for the baby but she was not allowed to get into the Police station. After being kept for several hours in detention, the couple were given a court summons with the option to pay a fine and released. Liam says the Police members who arrested him and the commander at the Police station had no masks on.
People who are arrested on these bogus charges should remember that the disaster regulations did not suspend the Constitution as the Police seems to believe happened. Arrested people should not pay the fine as anyone who does pay the fine also makes an admission of guilt at the same time and will have a criminal record afterwards. Everyone should go to court and defend themselves. They should also get legal representation and sue the State for illegal arrest. If someone is abducted by the Police and they are released without criminal charges, it means the Police committed the crime of abduction. Criminal charges should be opened and IPID contacted. They should also sue the Police for a large amount in a civil lawsuit.
We should fight for our liberties and rights because if we don't, the future will hold the same type of abuse as we are currently going through. People should also join a civil rights organization like Afriforum because they offer a support network and opportunity for collective action. The more members a civil rights organization has, the stronger their voice will be when fighting these abuses. People should take note that the lockdown did not suspend any Constitutional right of anyone, and the Police is still required to act legally and rationally.
Also. if you're struggling to pay rent due to a loss of income during lockdown, credit expert Michelle Dickens advises that you ensure that you have documentation proving you're no longer getting income – and allow your landlord to contact your employer to confirm your position. She said some options that can be looked at is using your deposit to pay rent (and top it back up later), for renters to work out a rental deferment plan, so you can make up payments once you have an income again.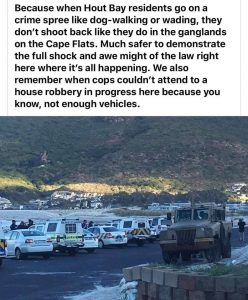 Watch also: VIDEO: ANC Are Punch Drunk on Emergency Powers! Traffic Cops Try Arrest / Abduct a Ballito Toddler! Yet No Lockdown for Blacks?
---