The much vaunted ANC government Covid-19 testing capacity has crashed, as an enormous backlog in CCP-virus tests has developed at the National Health Laboratory Service (NHLS), resulting in a waiting period of between 10-12 days for a test to be concluded, which makes testing pointless, as the genetic material of the virus breaks down after 72 hours! In contrast, private laboratories, which do just over half the CCP-virus tests in the country, just take a day to complete such a test.
The long waiting period from the National Labs is wreaking havoc and threatens to totally derail the fight against the CCP-virus pandemic and render the massive sacrifices South Africans were forced to make, during the drawn out and over regulated lockdown, worthless, driving many people into bankruptcy and hunger unnecessarily. According to the Rapport newspaper a nursing expert says that if a patient in a hospital can't be tested speedily, the patient has to be treated as if CCP-virus positive, and taken up in a CCP-virus ward. These CCP wards are gobbling up PPE's (Personal Protective Equipment) at a tremendous rate.
The amount of health workers testing positive for the CCP-virus are shooting up which is why it is very important to keep CCP-virus patients together so that they come in contact with less health staff. A doctor who works in a government hospital in Gauteng says the testing backlog creates a big problem because health staff are supposed to stay in isolation until their test results become known. This is not being implemented in practice because of a shortage of health staff. Shockingly, days in isolation are also deducted from the sick and vacation leave of the health staff.
The NHLS is only reporting around 60,000 CCP-virus test results per week currently but they have a backlog of over 83,000 cases, says Dr Kamy Chetty, head of the NHLS. A Gauteng specialist told Rapport the genetic material of the virus breaks down after 72 hours, making lab tests even more inaccurate. The provinces with the biggest backlog in reporting CCP-virus tests are Gauteng (24,000), KZN (22,000), Eastern Cape (21,000) and Western Cape (15,000). Western Cape accounts for 64% of positive CCP-virus cases in the country.
Chetty says the testing bottleneck began in the last few weeks after their ability could not keep up with increasing testing demands any longer. Chetty makes the claim that their ability is being constrained by a worldwide shortage in test kits, logistical challenges like cancellation of flights and public holidays. However one then wonders why the private sector can keep up so easily coping with the same number of tests? Why have the stubborn ANC not enlisted the private sector to help?
Testing capability in the private sector is better because they have a wider variety of testing machines resulting in a bigger pool of test kits available on the market. Clearly better planning ability on their part and as a result they can outperform State capability. The NHLS has ordered 22 other testing machines from overseas. Testing machines whether manufactured in South Africa or overseas must be certified by the National Institute of Communicable Diseases.
Keep in mind that the ANC's aim with the National Health Insurance (NHI) is to basically nationalise all private health providers into one gigantic government health network so that they can have more central command control. It is ironic then that the inefficiencies of central government control is being exposed whilst Nkosazana "Dr Twak" Zuma (NDZ) and fellow communist hacks in the ANC have sought to exploit this CCP-virus pandemic to implement more communist central command controls, openly stating that the crisis should not be wasted, and that the ANC government must exploit the crisis to "restructure" the economy – or advance the so called RET agenda – which is code for cronies from the Zuma camp getting more tenders.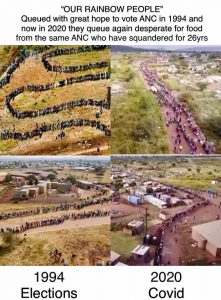 Read also: #LetThemEatCash! Ramaphosa Creating Historic Debt to Appease Township Masses! Faulty Test Stats & Cash Won't Stop CCPvirus Nor Will it Protect Food Producers & Shops!
---