WILL FEAR CONTROL AND CHANGE WHO YOU ARE? Very few of us know someone who got the CCP-virus, but everyone knows someone affected by the lockdown. As we regularly see on FB, there are many smart alecs and many "experts" on this CCP virus (COVID-19), and too many of us unfortunately prove that the real pandemic has become fear itself. Indeed, the fear pandemic is now a bigger pandemic than the CCP virus itself. Ironically, the greatest comorbidity of patients dying from Covid19 is hypertension (stress and high blood pressure). Let's calm down and return to the facts and the bigger picture.
There is indeed a bigger picture. We are not saying that COVID-19 is not serious, and we agree that we should do what we can to stop its spread, but the worst factor now is fear. The martial law situation. This allows the ANC to do whatever they want, even ban sandwiches for the hungry, arrest people if their little girl accidentally runs onto the beach, or sell hot coffee, where children are dragged away by traffic officers.
Fear is what makes people accept it, and report on their own neighbors to call the obnoxious Stasi Police to lock their neighbors up for nothing. It's fear that makes it happen! We can also now see that the computer models on which the government justified the hard lockdown, were highly exaggerated. They predicted deaths as high as 350,000 due to COVID-19, but it's never going to get there. Take a look at what experts like Dr. Glenda Gray and Prof. Shabir Madhi said. They say the government is acting unscientifically and other experts in the PANDA group also say that computer models were highly exaggerated, and that 29 times more people will die because of the severe restriction than will eventually die from COVID-19.
The harsh response is worse than the original CCP virus disease. Especially since we had to lose our last bit of freedom. Covid19 is only an additional disease to everything else, also not so deadly. Less than 1% of people who get it will die from it. The ANC knows it all, but it has given them the cover to accelerate their communist and revolutionary goals. There are many diseases and causes of death such as cancer, AIDS, murders, car accidents. But only Covid is singled out?
Life is all about living and dying. If we cannot live, if we are constantly trembling with fear, then what is the purpose? Isn't the greatest goal of trying to provide a future for our descendants? If it is not, then we do not care for our children.
Again, this is an additional disease and cause of death. There are many others. Cancer. Heart ailments. Diabetes. Car accidents. Yet people do not stop eating meat and sugar, and do not stop driving. Always look at the bigger picture. Millions are going to lose their jobs because of the hard restrictions. How many people would you like to see without work on the street before you feel safe not to get COVID-19? More unemployment means more crime and more of our people will be killed.
Experts agree that the spread of a virus will not be prevented by a restriction. It will be with us like the flu until a vaccine can be found. The pandemic of fear created over COVID-19 is incomprehensible when one looks at all the other causes of death. Every year, around 30,000 people die from TB in South Africa.
Unfortunately, this pandemic of fear was forced on us by computer model builders who thought they could accurately predict the future. We're not going to see nearly as many people die as they originally predicted. The ANC soon realized the benefits of the fear pandemic and saw here they had a great chance to pursue other goals. Nkosazana Zuma stated bluntly that they wanted to use the restriction to change the structure of the economy. Always keep perspective and the bigger picture at hand.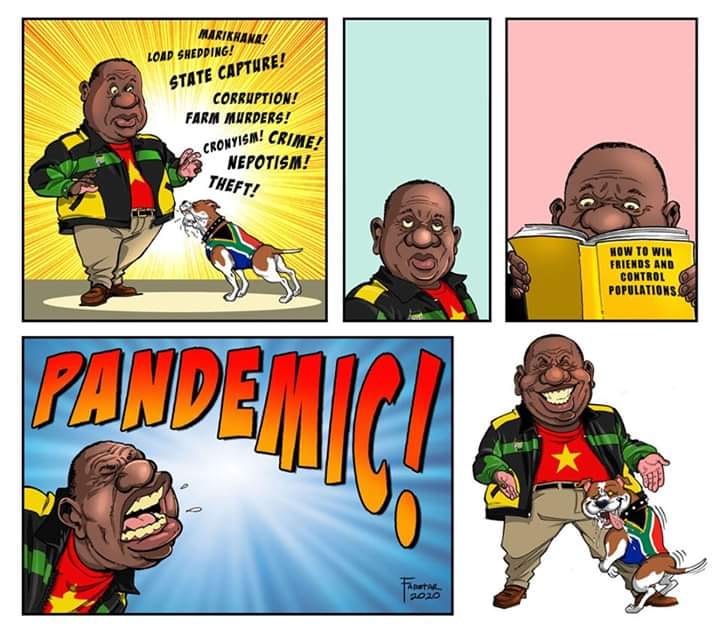 Read also: #Holodomor Is Ramaphosa Copying Joseph Stalin's Deliberate Starvation Plan & Using Covid-19 To Boil The White Frogs Faster?
---