The Once Proud Boer City Nicknamed Rosestad Is No More. Tuesday was the 12th day in which garbage was not collected by the municipality of Bloemfontein, causing mountains of black refuse bags to lie uncollected in the streets in neighborhoods like Pelissier and Lourierpark. Small-scale black farmers close by have been letting their pigs invade the neighbourhoods, ripping  open the refuse bags looking for food, leaving a big mess.
Rossouw Botes, a DA councillor from Bloemfontein, says the pigs come from squatter camps in the vicinity where the small-scale black farmers don't give the pigs enough food causing them to be hungry. A spokesperson of Bloemfontein municipality told Netwerk24 that a diesel shortage is the reason why refuse is not being removed. Rossouw says that the provincial government is supposed to give Bloemfontein R1,4 billion but this is not forthcoming and officials of Bloemfontein, which is under provincial administration, are too scared to say anything because they don't want to criticize their fellow ANC government.
There is no end in sight for the problem with invading pigs though. Rossouw says he  suggested an alternative area to serve as pasture for the pigs. His proposal was initially accepted by the pig owners and the municipality but when it became time to move the pigs, the pig owners kicked in their heels and refused to co-operate.
Rossouw also says that municipal truck drivers are exploiting the situation because they are always saying that trucks are not available because of spare part problems or whatever reason, but come Saturday and Sunday there is nothing wrong with  those trucks. The truck drivers then claim astronomical amounts of weekend overtime and supplement their income that way.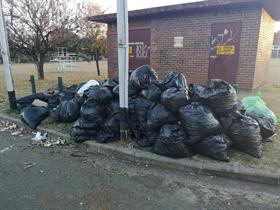 ANALYSIS – Refuse not being collected, animals like goats and pigs invading neighborhoods where people are supposed to live, looting of public money etc. is typically #TheAfricanWay and its that way all over South Africa and Africa where black Africans govern, which is all good and well if they so choose. But the fact remains that people living in neighborhoods paying good money as taxes also have rights. If you do nothing in Africa to stand together to protect your rights, #TheAfricanWay will inevitably take over and follow its inevitable route.
Liberal left wing parties like the DA, especially their white voters, have never really understood or even acknowledged #TheAfricanWay, which will ensure that black people won't vote for them unless they will get preferential treatment and can basically Africanize and take over the party. It is becoming more and more important for minorities to band together in civil society groups to fight for their rights. In Africa nothing comes easy and nature is usually left to take its course, especially African human nature…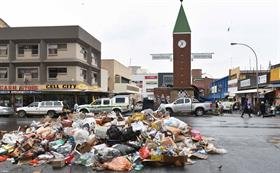 ---