Cyril Ramaphosa who became a Quadruple Billionaire by racebaiting, wants more, and has now racebaited the entire South African economy, by calling it racist and colonial, and has said the lockdown affords the perfect opportunity to "restructure" it. Is even MORE BBBEE possible, or is it concentration camps for whites now? The High Court however has put a spanner in the ANC's works and declared the Level 3 and 4 lockdown regulations invalid! The person who seems to be really in charge at the moment, the lockdown Regulation Queen, Nkosazana Dlamini-Zuma (NDZ), otherwise known as Dr. Twak, has also made the same kind of comments about restructuring the economy, but to get rid of Cyril's benefactors, the WMC.
While it may appear on the face of it to be another instance of Cyril faithfully following what the so called RET faction of the ANC is telling him to do, this is not likely because Cyril believes in the same thing. Remember what he said about slowly cooking the frog in the pot? So let us analyze Ramaphosa's assertion a bit.
The ANC was given Africa's largest economy in 1994, and has been in charge of the economy for 26 years, in which they implemented more and more laws, regulations and economic plans like HOP, Gear, Cadre Deployment, NDP, BEE and many others, more than we can remember, or were even told about in fact. The whole economic procurement system, both in the private as well as State sector, is based on the Broad Based Black Economic Empowerment (BBBEE) system, where your company either has to be a wholly owned black company, or has to be black majority owned to get a government tender or contract. As a result, SA has slipped to 3rd biggest economy in Africa.
There are over 128 rules and regulations excluding white people from the civil service, economy, education, etc, The entire State and private sector have been forcefully "transformed" to reflect the national demographic racial profile of the country, immaterial of whether the "cadre" being employed is capable of dong the job. What more do they want? Have they not stolen enough? Have they not captured the State enough? How long will this "revenge" for apartheid carry on for?
Fact is, what can they do in the months of lockdown which they have not already been doing the past 26 years? Yes, we do have a racist economy. It is completely anti-white, so absolutely racist for sure. The ANC has stated that they will only give official State assistance to black owned small businesses in the lockdown period, using the structurally prejudicial BBBEE penalty system, even though the hard and long lockdown has affected white small businesses and forced them to close too.
Any white person knows that BBBEE officially excludes white people and that not even one white small business person will get a cent from government, even though the government made Billions of Rands in State assistance available, which they claim is to keep small businesses afloat in the lockdown.
The ANC even defended their position not to assist any small business owned by a white person in the lockdown period, in the High Court and Constitutional Court and has even won one High Court judgment in their favor so far!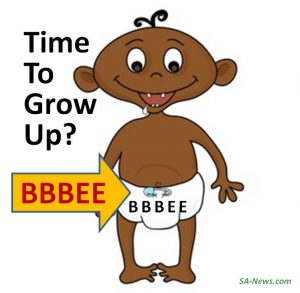 Read also: VIDEO: When Will Black South Africans Take Off Their BBBEE Nappy & Abolish Expropriation Without Compensation Too? "Freedom for Some is Freedom for None"
---