As South Africa enters the top 20 in countries affected by the CCPvirus, panic seems to have spread in the Ramaphosa cabinet where serious differences have developed among members of the Cabinet, with regards to the handling of the pandemic response. This is further compounded by their lack of experience, knowledge and respect for procedural and constitutional regulations, resulting in 116 cases where the ANC government has been taken or threatened with court! The Covid-19 pandemic does not accept lies and sweeping mistakes under the "racism" carpet, which ANC normally gets away with.
Mkhize, the Minister of Health, who has been schmoozing through the last few months of relatively low Covid19 infection numbers, especially given that all other health dept. functions and treatments have been largely swept aside, has realised the last few month were meant for actual preparing, not just dishing out tender cash and talking the talk. Mkhize has warned that the relaxation of lockdown measures is to allow the economy to get back on track, but could lead to a social collapse, because the relaxation will have a direct impact on the country's health system. No doubt his biggest fear is that the coming weeks will expose just how weak the country's healthcare system is and how unprepared it is to deal with a full scale pandemic, despite months of warning.
The relief measures announced in Phase 3 and subsequent adjustments involving salons, was largely done in response to pressure from business and the public sector, who demanded improvement in the overall economic situation, and to meet the demands of the institutions. This has opened vast differences between Mboweni and Mkhize on the next steps to be taken, just as the tobacco debacle was a clear disagreement between Dlamini-Zuma (NDZ) and Ramaphosa.
The ANC government of Cyril Ramaphosa has now been threatened with 116 court cases, for his decisions on the application of Covid19 response measures and their impact on the population.
Ramaphosa's response measures have often been unpopular and challenged in court, like the prohibition of cigarette sales, which is one of the most prominent cases that put the ANC government in a bad light. This has made Nkosazana Dlamini-Zuma (NDZ), the most controversial figure in the cabinet, even despite Bheki Cele's police brutality. NDZ has been accused of being behind the measure that cigarettes may not be sold, because of her association with cigarette smugglers and her son's directorship in a Tobacco company, from whom she is believed to benefit financially. If you can make 2.2 Billion disappear from the National Cleaning budget, anything is possible!
As the Minister of the Department of Cooperative Governance, NDZ has released information on how the government is being legally challenged by individuals and institutions in court for their actions. She said several cases have been settled out of court, showing that the government is extremely sensitive to losing and is to blame for poor decision-making, while others are being finalized in court. Various cases deal with the constitutional rights of people which are infringed by ANC government measures, but there are also cases of a more personal nature where people's rights are harmed.
The Minister of Social Development, Lindiwe Zulu, has come under fire again, and this time on the release of regulations on control of food distribution to people in need, after she introduced a controversial method of doing distributing food aid, which was rejected by the SA Human Rights Commission shortly thereafter.
The Minister then did not dare to make any announcement for a few weeks, as she was repeatedly criticized for the way she manages her department, as the new measures announced by her are by no means good enough to meet the needs of the poor, and are in some cases even unimplementable.
Her Dept. regulation stipulates, inter alia, that soup kitchens may not allow people to sit and eat them, and the needy also need to bring their own containers in which the soup will be created, but the national regulations stipulate that soup kitchens and restaurants should maintain social distance and that hygiene must be applied. Opposition parties have also threatened to drag the embattled minister Zulu to court if she does not comply with the laid down rules that apply.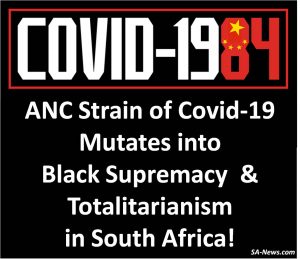 Read Also: ANC Nanny State is Here to Stay! Covid19 Proved ANC Ignores Scientists, Have No Trust in the People & Prefer Total Power, Control & Dictatorship!
---