Is SA's Hillary Clinton, Nkosazana Dlamini Zuma, Who Desperately Wants to be President Too, Using Her Command Council Lockdown Power to Save her ex-Husband & ex-President, SA's Disgraced Bill Clinton, Jacob Zuma? The remarkable similarities between the Zumas and Clintons are more than deja-vu, they are the hallmark of gross abuse of State structures to satisfy a desperate greed and lust for power. Zuma's ex-wife who is in charge of the ANC's CCPvirus "Command Council" which is enforcing unconstitutional powers, could draw out lockdown forever, thereby postponing Zuma's court case and the Zondo Commission. Emeritus Professor Pieter Labuschagne, a law expert at UNISA, warns that South Africa has entered dangerous territory after the ANC government claimed ultra Constitutional powers for itself, as its response to the Chinese CCP virus pandemic. 
A side motive of this that is maybe the most obvious one, that has not even been noticed, is Jacob Zuma's attempt to dodge the law and Zondo commission with his ex wife in charge of the ANC's illegal mechanism called a command council, used to implement and oversee the lockdown. It also looks like the Zuma faction of the ANC has used this as another less obvious way to regain control and that Cyril is possibly now President in name only, making way for NDZ's ultimate ambition, to be President, like Hillary?
Sometimes things hide in plain sight and by now it must be clear that the ever opportunistic Zumas and ANC have many other motives for the harsh lockdown, like looting opportunities for its cadres, and using the harsh lockdown to drive white people and small businesses into bankruptcy and onto socialist welfare, by keeping their businesses closed indefinitely and denying them taxpayer help.
Labuschagne says the government's CCP virus "command council" has claimed such super status for itself, that the participants of that council, which is of course led by Nkosazana Dlamini Zuma, Jacob Zuma's ex wife, regard themselves as above accountability and transparency. Did anyone ever consider that this CCP virus command council will want to draw out the lockdown, because the Courts and Zondo commission of Enquiry into State Capture can't sit during such a lockdown? Jacob Zuma is an accused in front of both the Court and Zondo commission remember?
Labuschagne says article 9 (2) of the Constitution says members of the Cabinet are individually and collectively accountable to Parliament, which is supposed to represent the citizens of the country. At least in theory they are supposed to. Labuschagne says the cabinet has now delegated its authority and powers to a shadowy command council with super status and which is not under supervision of anyone, not even Parliament. This would of course be totally unconstitutional. Labuschagne says the command council even refuses to release its minutes.
Even the previous Public Protector, Thuli Madonsela, has waded in and written an opinion piece in News24 in which she says the Disaster Management Act does not make provision for the suspension of Parliament's supervisory role. She also criticized the fact that Parliament does not currently play a supervisory role in the CCP virus command council led by NDZ.
There have also been questions raised over reasons for NDZ's ban on cigarettes and her connection to a self confessed cigarette smuggler, and then there is Edward Zuma, who is Director of ATM Tobacco… and wouldn't you know, co-incidentally at the same time, Duduzane Zuma starts airing ANC's dirty laundry, in conversations with his Father on Youtube in Zooming with the Zumas…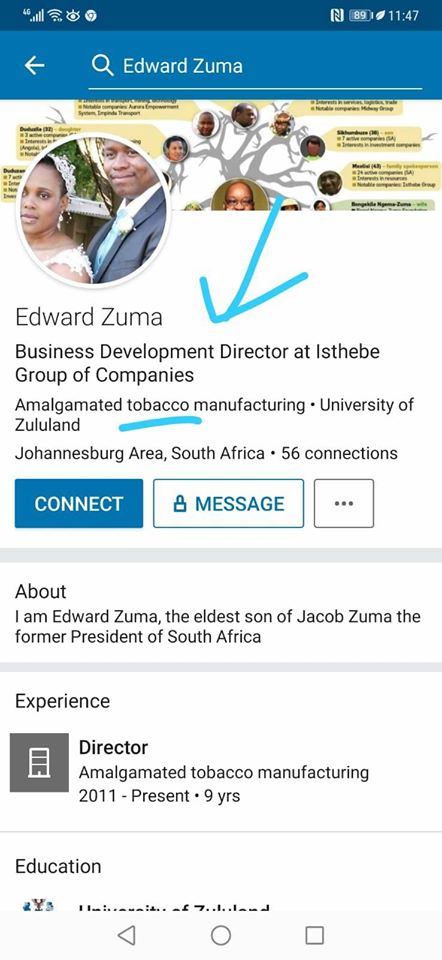 See also: VIDEO: #GangsterState Nkosazana Dlamini Zuma's Cigarette Ban Creates a Booming Illegal Industry, Extortion & Even Higher Tempers!
---