The Corona Virus is the gift that keeps giving for the ANC. Not only has lockdown provided them with new totalitarian powers and loads of extra cash, but the Covid-19 virus just gave the ANC an opportunity to let their voters, criminal friends, family and insurgent operatives out of jail on a large scale. This after Ramaphosa pardoned so many of them in the New Year! Criminals currently being detained in prisons will be released on warning in terms of emergency regulations published in the Government Gazette on Tuesday. Clearly Law and Order and Social Cohesion is not high on the ANC agenda, but then that is not something you would expect from communists.
These regulations are for all prisoners who are in prison on a R5,000 or less bail that has been set by the court, but who could not pay the bail. However confusion has erupted, or has been deliberately created to obfuscate responsibility, if the ANC's cynical history is anything to go by, over the government's plan to release prisoners amidst the COVID-19 crisis. Although regulations issued by the Justice ministry in the Government Gazette say that ONLY perpetrators of smaller and non violent crimes should be released, netwerk24 reports that Western Cape Chief Magistrate Daniel Thulare has issued an instruction that ALL prisoners, for who bail has been set to R 5,000 or less, but could not afford to pay it, should be released from prisons in courts, under HIS jurisdiction.
Thulare's office has issued a list of names of prisoners who should be released and Court officials told Netwerk24 that most of the prisoners on Thulare's list are suspects in cases where serious violence is involved, like cases of murder and attempted murder! They will now be released on a warning and given a date on which they should appear again (which is most unlikely, hence the reason for bail in the first place!)
Police and prosecutors are also given instructions by the Justice department to fix bail for criminals who are going to be arrested henceforth during the lockdown. So we are going to sit with a lot more criminals on the streets. It also means that not only will police have to re-arrest all these now realeased, that do not appear back for their court set date, but the Police will also have to release anyone they arrest going forward in terms of the lockdown regulations. A true catch and release strategy, and also a signal to criminals that it is open season! Will these criminals be sent to jail if the are caught disobeying the lockdown regulations?
Now the ANC will let all their friends and voters out of the jails and claim it is to fight the spread of COVID-19! So that they can commit crimes against law abiding people again? It is quite clear who the ANC's voter base is. On what scientific rationale will people be released from prisons? Has there been any COVID-19 cases in prisons? Who says the same prisoners won't get COVID-19 outside? Or that they will transfer the virus to their communities if they already have it? It just seems like a way for the ANC to free criminals for no reason that makes any sense.
Very little that the ANC does makes any sense except that somewhere along the line is bribery, corruption and someone sucking the taxpayer dry, making money out of the situation. Like the freeloading University "students" who were on their way home in buses to the Eastern Cape, when the lockdown started. They had to stop right there and then, hire an entire guesthouse and are still there, despite protests from locals, living it up on our tab… is driving home not a valid reason to be out?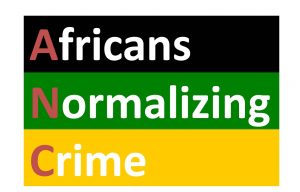 Read also#ParasiticParastatale The ANC is the Worst Virus to Hit Any Country! Road Accident Fund (RAF) Debt Levels Chasing Eskom Debt Levels, Possibly Reaching R800 BILLION in 5 Years!
---