The ANC are using their propaganda platform, the SABC which broadcasts Radio Sonder Grense (RSG) in Afrikaans, to deceptively and fraudulently solicit funds for their CCPvirus Solidarity fund, using the name of the Solidarity Trade Union who operate a charity called "Helpende Hand". The ANC regime is busy with deliberate deceit and misrepresentation in their Solidarity Fund advertisement on their RSG Radio, where they are trying to get white Afrikaans speaking listeners to part with their money, for the ANC's very racist Solidarity Fund, using the name of the Solidarity Trade Union for their fund and also including the name of Solidarity Trade Union's charity, "Helpende Hand" in the advertisement!
The ANC are attempting to swindle and deceive people to give money to a government fund, which will allocate funds according to ANC rules. That means that if you are white, you are out. It is bad enough that they call it the Solidarity fund because there is certainly no solidarity shown to poor white people, because the ANC is refusing to give official assistance to white people even though they have closed their businesses in the lockdown period.
The ANC government is even going to defend its racist stance in the Constitutional Court, confirming that they will only assist black business people during the COVID-19 lockdown, in a matter brought by the Solidarity Movement trade union. The Solidarity trade union is asking the Constitutional Court to declare the government's COVID-19 assistance policy illegal, because the government said they will use a BBBEE based system to determine who gets help from government. In practice that means only black people will be helped.
There was suspicion from the start that the ANC stole the Solidarity Movement's (the trade union) name to use for their Solidarity fund, but when they say in their advertisement on RSG radio, which broadcasts nationally in Afrikaans, that you must give a "Helpende Hand", it is clear they are doing it on purpose, because Helpende Hand is the Solidarity trade union and larger movement's charity. Why would you part with your hard earned money knowing that the government's Solidarity fund is so racist that they wont even give a food parcel to a poor destitute white person in a squatter camp?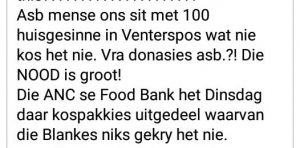 See also: VIDEO: What Are The Criteria For Food Parcels? Do Any Poor White People, Families or Groups Get Food Aid? Do They Need to Vote ANC First?
---